I was very excited to see that a new Wellness Bundle has just gone on sale…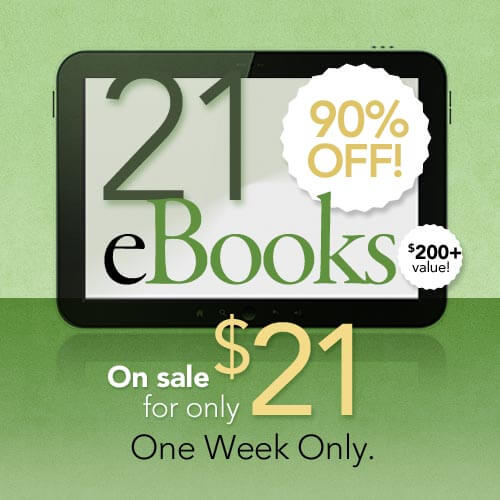 This Wellness Bundle can help you reach your health aims faster, easily and without stress! The authors have been through their own health struggles and are determined to help you through their own experiences! In this Wellness Bundle, you will find out:
How to Quit Sugar and break the cycle of cravings and blood sugar swings with Sarah Wilson's award winning book "I Quit Sugar"
How to Heal Teeth and improve oral health from Ramiel Nagel- author of Cure Tooth Decay!
How to replace all of your current beauty and toiletry products with natural, homemade and inexpensive options!
How to make household cleaners at home so that you can clean your entire house without dangerous chemical!
How to cook health, delicious meals on a budget with a month of meal plans and shopping lists!
Tips for shopping, preparing and packing healthy lunches
Dozens of healthy smoothie recipes for nutrition on the go
How pelvic floor fitness can impact core strength and intimacy!
How to make budget-friendly slow-cooker meals that can be pre-frozen for healthy meals in a flash!
So much more!
The Wellness Bundle is available for one week only. Due to the steeply discounted price, all sales are final. The Wellness Bundle will be available from February 25, 2012 until March 4, 2012  only…
Included E-books:
Here is a full list of all e-books and digital guides that are included in the Wellness Bundle. Go to any of the author's websites for more information about the author and their e-book:
NUTRITION AND COOKING:
I Quit Sugar E-Book from SarahWilson.com.au
I Quit Sugar Cookbook from SarahWilson.com.au
1-Month Meal Plan and Shopping List from WellnessMama.com
Slow-Cooker Freezer Meals from MamaandBabyLove.com
Against the Grain from ModernAlternativeMama.com
Salad Dressings and Sauces Digital Cookbook- WellnessMama.com
Gluten Free Grain Free Baking from MamaandBabyLove.com
Real Food Real Frugal from RealFoodRealFrugal.com
Toadally Primal Smoothie Book- PrimalSmoothies.com
The Modern No-Nonsense Guide to Paleo: Shopping, Kitchens, Lunches  from PaleononPaleo.com
Nourishing Diet from DynoMom.com
Decadent Desserts Grain Free Digital Cookbook-WellnessMama.com
Food Philosophy 2.0 from FemFusionFitness.com
FITNESS AND LIFESTYLE
Fitness for Intimacy from FemFusionFitness.com
Tips and Tricks ToRemineralize and Repair Your Cavities Now  from CureToothDecay.com
15 Questions to Ask Your Dentist (to find a natural one)  from OraWellness.com
PARENTING AND HEALTHY FAMILY
Paleo Approach to Parenting from PaleoParents.com
Breast to Bib (Nutrition for Babies) from ModernAlternativeMama.com
Natural Beauty Recipes for the Whole Family  from WellnessMama.com
Mindset for Moms from SteadyMom.com
Natural Cleaning Recipes and Checklists from WellnessMama.com
An Fantastic Offer…
These 21 e-books have a total value of over $200 but are available for a total price of just $21 this week!
Have you bought the bundle yet? Which is your favourite book?
Did you enjoy this article?
Get my 2 FREE Paleo eBooks!

Sign up to receive my weekly email, full of Paleo tips, recipes, events and news and download my free Paleo ebooks